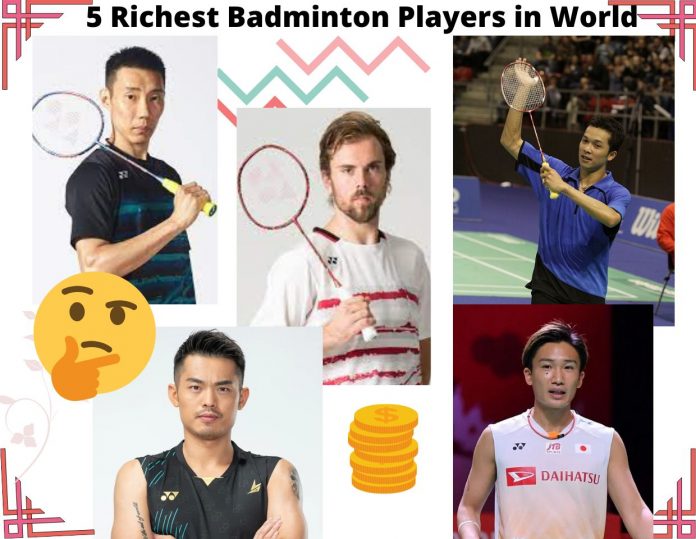 If you are the one who is the biggest fan of racket and shuttle, then this article is going to be one of the most interesting topics. Here we will cover the richest badminton players in the world. Many events are scheduled every year and they provide huge money to the players helping them to gain fame and money. 
With the majority of tournaments now being broadcast live online, badminton is becoming more and more well-known every year. However, only badminton enthusiasts would tune in to see all of these competitions.
The Olympics aid in increasing visibility to various audiences. Many sports enthusiasts will watch the Olympics, but not just the games they enjoy. 
Numerous viewers will tune in to badminton and be shocked by how challenging, quick, and enjoyable it is. This could lead to more people taking up badminton and participating in online tournaments. What are you waiting for ? Go get yourself a badminton racket, a shuttle and a friend to start playing.
Badminton
Looks like the sports field is taking the rise. It shows the true self a chance for practicing and reaching the top in the field. That's why we will take you through each and every aspect of this article to explain what competitions are worth participating in, and is dream of every badminton player. Also who are the top 5 badminton players in the world.
Take a deep dive into this article to extract more meaningful information related to this interesting topic.
Badminton Tournaments
There are various types of badminton tournaments that are held every year:
BWF Thomas Cup
BWF Thomas Cup is one of the biggest and oldest badminton tournaments in the world. It is also known as Men's team championship.
World Grand Prix Finals
The International Badminton Federation-affiliated World Grand Prix Finals were first held in Indonesia in 1983 after being promoted annually until 2001 in various Asian nations (IBF).
BWF World Championship
This championship does not offer cash rewards but it gives huge prestige and rankings points to the players. They receive the fame of gold medals and championships. Due to this, this tournament is one of the most important plays in the world.
Top richest badminton players in the world
1-Lee Chong Wei
Country- Malaysia
Earning- $35 Million
Lee Chong Wei is also known as the name of the legend of Badminton in the world. He is the toughest player in the history of badminton. In addition to making a record 18 appearances in the Super Series Premier singles finals, Lee has won an unprecedented 46 BWF Super Series singles championships. He is the only man to have achieved career dominance in the Super Series. Lee is the player with the most Super Series victories. He is the only male wrestler to win three straight BWF Super Series Finals championships (2008–10).
Lee also won 18 straight matches in the year-end championships. At present, he is no.1 and one of the richest players in the world.
2-Jan O Jorgensen
Country-Europe
Earning- $ 23 Million
The name of Jan O Jorgensen comes under the most successful Danish badminton player. His past record tells his success history, 423 wins, and 224 losses. Among his competitors, he found his own way to get success, fame, and money. He won the bronze medal in European Championship in 2015. Due to this, he comes on the list of richest badminton players in the world.
3-Taufik Hidayat
Country- Indonesia
net Worth- $7.5 Million
Taufik Hidayat is the most outstanding player that. Hidayat is a former world champion, an Olympic gold medallist (Athens, 2004), a multiple-time Asian champion, and a Thomas Cup and Southeast Asian Games champion. Due to this success prints, Indonesia now ranks among the top badminton nations because of this exceptional player.
4-Lin Dan
Country- China
Net Worth- $41 Million
Lin Dan is one of the most successful and richest badminton players in the world. You can find his success story in Badminton history. Despite the fact, that he failed many times and remained alienated from winning he constantly inspired him and did work which leads him now to this stage where he lies on the list of richest badminton players in the world. He never gives up, his patience and tolerance strength tell everything about how he manages the stress and plays full of spirit. He won more than 60 titles. His current score is 666-132.
5-Kento Momota
Country- Japan
Net Worth- $3 Million
Kento Momota is renowned for his quickness and agility. His unbelievable return shots amaze everyone. Each day he becomes better and better. He had won many championships and other tournaments which makes him the most hard-working badminton player in the history of badminton. Constant progress will surely make him lie on the list of richest badminton players in the world.
Wrapping Up
All the players are not known by the money various success and failures makes their journey different from others. This article has covered the list of richest badminton players in the world. There are many more players that are waiting to come under this list. Stay updated and be with us to know more about various interesting topics like this.
who is the highest-paid badminton player in the world?