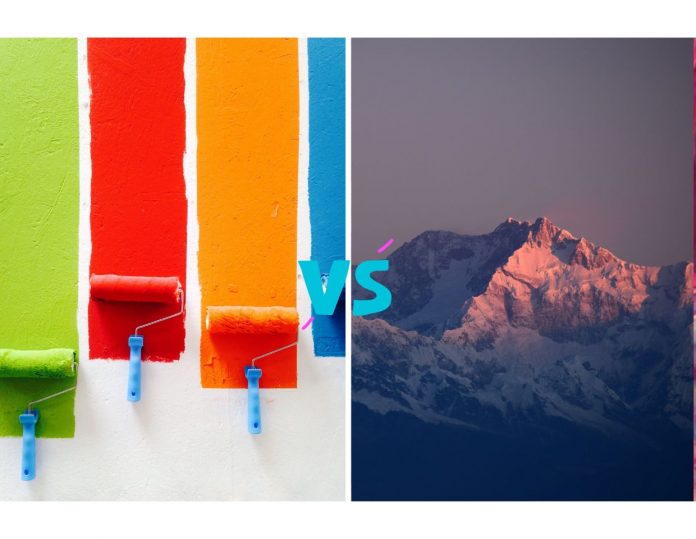 Which one is better, Paint or Wallpaper? Points to Check For
Interiors Designers are a great guide and help to bring brilliance to your home. Designing a home is a whole lot of "Discovery," and creating such impact, walls decore makes a huge difference. Designing is creative thinking with great visuals and correct output on walls.
When decorating the house, walls are vital to creating a look; hence, either the wall paint or wallpaper for bedroom walls. The very first thing that gives an aesthetic appearance to your home is the walls. If a house is a place to live, then the beauty lies in the house's walls. While planning to decorate your home, consider all the prospects that help you cover the walls. In today's time, among the various options, people consider the most running options for wall decor are wall paints and wallpapers. But before you are about to have your decision, give a detailed read to this post that covers the advantages and disadvantages of wallpaper and wall paint. So, before you make a move, give a creative thought after reading this and design the walls with a great smile that leaves great style.

Here are the factors that leave no other space for a debate to choose between Wallpaper or Wall Paint:
1. Cost
Despite the fact that the cost may differ depending on the type of wallpaper or wall paint you choose, wallpapers tend to be more expensive than paints. Wallpapers require professional installation and a large number of instruments to install, and Wallpaper installation also needs to match the decor to the patterns.
Whereas in context, the Wall Paints are less expansive and need to be done by a great painter.
2. Variety
If you want to transform your home into something fun and unique, a variety of colors and finishes can make a big difference. Fortunately, India has no shortage of options when it comes to wallpaper and paint.
The variety of colors available in paint allows you to create a unique finish that matches any décor. You can mix and match any color of paint in conjunction with any texturing technique to create an entirely new look. Paint also comes in a variety of finishes, such as satin, matte, glossy, and semigloss.
Additionally, wallpaper comes in a number of different colors and patterns, from classically elegant patterns to contemporary designs. Wallpaper can also be made from fabric, vinyl, embossed textures, foil printed, suede, etc.
3. Durability
In the same conditions, you can expect a paint job to last you up to five years if you select the best paint and the property isn't exposed to extreme conditions of nature. It is more likely that wallpaper will last you up to 15 years in similar conditions. Therefore, the wallpaper will have a much higher return on investment. So, if you are a change lover and need a new look very often, then wallpaper doesn't match your need.
4. Time Taken
A wallpaper is a one-time application, and a reasonably-sized home can be covered in a single day. In contrast, oil-based paints can take a long time to dry; in some cases, at least two or three coats are required.
Wallpaper installation is done by a professional because you can't do it with that cleanliness, while painting a house can be fun. Wall painting requires more professional talent and expertise and takes much longer than wallpaper installation. A two bedroom home might be painted within 3 to 4 days; wallpaper installation would take twice as long.
5. Maintenance
A good quality paint and wallpaper are resistant to chipping and peeling; If you invest in fine quality items, they will last longer. The material quality will also allow you to clean them if your child decides to draw on the wall or if your pet wishes to jump up and down on it. However, you'll have to invest heavily to achieve that level of quality. In this situation, you get what you pay for in the best-case scenario.
6. Area Specific
Wallpaper is pasted on the wall using adhesive, and any exposure to moisture or humidity will result in the paper peeling off. Even heat will damage the wallpaper; therefore, wallpaper is not something that can be used in areas such as bathrooms, kitchens, or exterior walls. Wallpapers are apt for bedrooms, lounge, drawing areas, living rooms, and dining areas. In areas where constant exposure to moisture and heat is present, the paint would also not last its normal course, which is why tiles have become a popular choice in place of paint for bathroom and kitchen walls
7. Appearane
A room shall not permit visitors to set their eyes on one corner; each wall shall be unique and welcoming. Paint and wallpaper both look superb when applied carefully, especially with the wide variety available. It is up to your individual taste, making you prefer to paint or apply wallpaper. Simplicity is the utmost sophistication and a great finish for wallpaper store installation or paint job.
8. Removal
The process for removing paint is extensive, and you might wonder if it's really necessary to go through it. Start with scraping old paint off the walls and sanding them so smooth walls can be painted over. Besides the hassle of cleaning up once the process is done, you'll also have to do a lot of cleaning up afterward. Peel-and-paste wallpaper can be removed easily; regular wallpaper has to be scraped by hand. What happens if you scrape the wallpaper off by hand? Don't worry, and it won't damage the walls! When it's removed, the walls will look just like new.